Time is just time. It's what you do with it that counts.
Blessed with a gift for soulful, 21st-century pop melodies and armed with guitar skills that nod to past masters, Pennsylvania-born, New Jersey bred friend of the brand Patrick Droney creates songs that feel timeless and new all at once.
The singer songwriter, producer began making his time count at the early age of six, when he first picked up a six-string guitar. By the age of 12 he was receiving recognition from the Robert Johnson Blues Foundation, securing cosigns from legends like James Brown and B.B. King, as he was quickly developing into a guitar prodigy.
Now signed to Warner Records with streams in the hundreds of millions, he most recently unveiled his debut record, State of the Heart, in May 2021, which earned acclaim from the likes of American Songwriter, SPIN with appearances on Late night with Colbert, Seth Meyers and The Kelly Clarkson show. His forthcoming album is nearing completion.
Read the Q&A from the day that Bremont spent with Patrick in London, as he talks about his passion for music, watches and all things 'time'.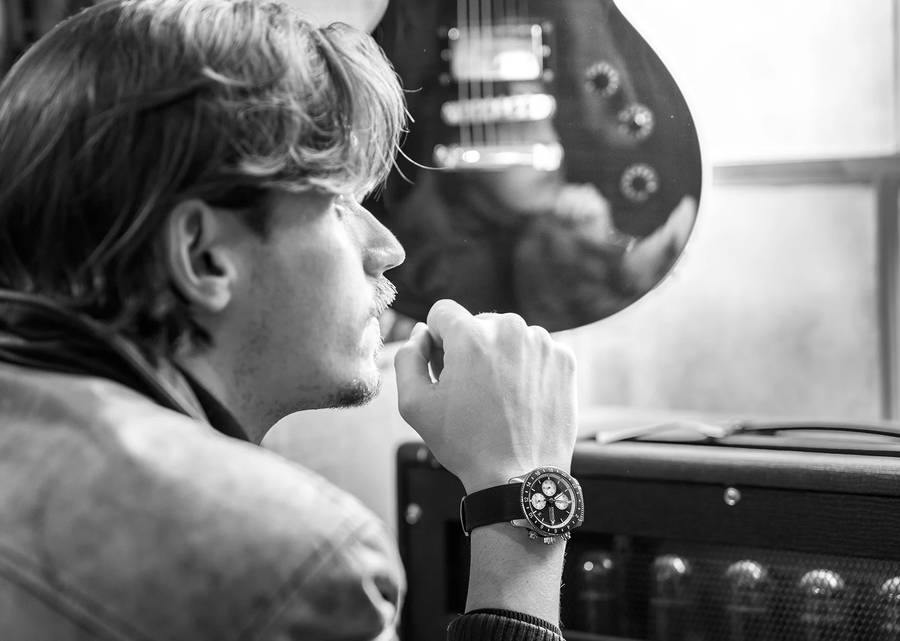 WHAT ARE YOUR EARLIEST MEMORIES OF MUSIC AND WHERE YOUR PASSION FOR IT STARTED?
My love for music was passed down much like my love for watches. My earliest memory of music was hearing my Dad play guitar in the living room. I couldn't have been more than a few years old. I was drawn to it because I subconsciously knew something else was entering the room - the buzz. It was just me, my Dad, and the buzz. Music is everywhere scoring the feeling. My formative memories are associated to a feeling of connection with my Dad tethered to a realization that there exists a third place to articulate the way I feel. It has always been there for me.
WHAT DID THE RECOGNITION PROVIDED FROM THE ROBERT JOHNSON BLUES FOUNDATION MEAN FOR YOU AT SUCH A YOUNG AGE?
We all have origin stories. Those first feelings that ripple so loudly feel as if a whole life branched off of the very root of them. As time unfolds, we connect those ties in more profound and rich ways. My love for Blues growing up was instinctual. I found that it carried more human essence than anything else I had been introduced to. I was drawn to the stories, adversities, and of course, the buzz. I went from studying the liner notes to B.B. King's Live At The Regal in the basement to being welcomed on stage beside him in my first year as a teenager. It was this incredible frame of time where the echo of my current self almost 20 years later rang in these incredible reinforcements – 'Follow this path'. When I got the call that I was being honored by Robert Johnson's family as a torch bearer, it couldn't have meant more. I knew how sacred it was even then. I dedicated one of my Fender Stratocasters to the Johnson family on stage at one of the B.B. King shows I did. That guitar hangs in the Robert Johnson Blues Museum in Hazlehurst, Mississippi to this day. I've never forgotten those roots and that responsibility to keep the music alive. My musical styling has evolved as a singer and songwriter, but my fire doesn't burn without those embers.
WHO WERE YOUR IDOLS GROWING UP?
There wasn't much open real estate on my walls growing up between guitar heroes and storytellers - Ray Charles, B.B. King, Springsteen, Joni Mitchell, Coltrane, Prince, Don Henley, and John Denver, to name a few. Early on, I found solace in poetry and film, so I would include Rainer Rilke and Cameron Crowe in the list.
Personally, my Dad and Grandfathers were always the model.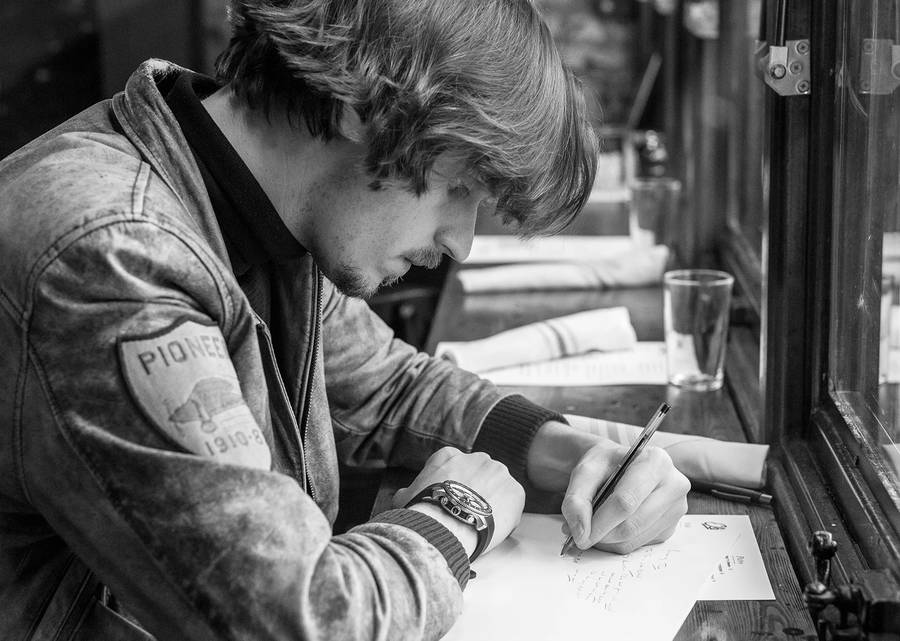 WHAT HAS BEEN THE GREATEST INFLUENCE ON YOUR STYLE OF MUSIC?
Time. The long journey to the beginning is one I wouldn't change for anything. The ability to grow alongside the music - to let the approach and process deepen and evolve next to me has been powerful. I've always known the sound I wanted to emit, and I've been listening for it for a long time. The signal is coming through in this era. State of the Heart established that for me, and the new record I'm about to finish is even clearer.
Regarding the sound itself - much like a watch movement, many pieces contextually make up a process or style. I feel lucky to have grown up with a wide lens of how stories can be told. As a guitarist, I'm pulling from the soul and blues root. As a producer, I think in the scope of the soundtrack - what does this sound look and feel like in the movie and when it comes to lyrics, the question I ask is how can we make the ordinary extraordinary? The goal is timeless; maybe we will meet somewhere between forever and tonight.
WHERE DOES THE INSPIRATION COME FROM WHEN SONGWRITING?
It really is all about making the ordinary extraordinary. The little things are the big things. I think about how we are all going through the same field of emotion in our own unique ways and how good it feels when someone articulates that emotion back to you. It makes you feel less alone in it. It goes back to the feeling and conducting this frame in time. The moment is always right here and there's always a story to come from it.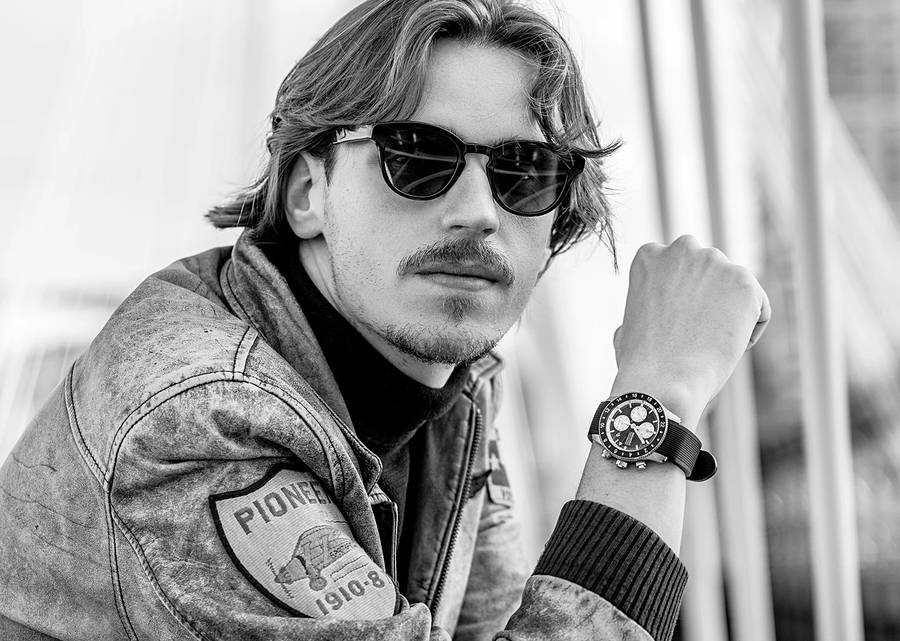 IF YOU COULD LIVE AND MAKE MUSIC IN ANOTHER ERA, WHEN WOULD THAT BE?
We live in an incredible time to make music as the possibilities are nearly endless. However, somewhere along the way I heard style is just as much about what you can't do as it is about what you can. The daydream of walking into the room after Chet Baker just cut "I Fall In Love Too Easily" in the 40's or after Ray Charles recorded "What I'd Say" on a whim at Atlantic Records in the 50's and have to conjure the same magic is a different test of artistry. It's really a different test of capturing time and feeling.
IF YOU COULD PLAY ANYWHERE IN THE WORLD, WHERE WOULD IT BE?
It was always a dream to play in London. I checked that box this past summer at a sold-out headline paired with a support show with The Eagles at Hyde Park for British Summer Time. A real dream. As to what's next - My Mom was born in Belfast, and much of my family is still in Ireland. I'm excited to return to the homeland with this new music and play there for the first time.
HOW WOULD YOU DESCRIBE THE FEELING OF BEING ON THE BIG STAGE WHEN PERFORMING?
For a window of time, I get to be the conductor. The big secret is that I actually have the best seat in the house. I can see where people go when they experience the music. I can see the connection to the memory or emotion they're pulling from. If you zoom out and think of the venue as a bigger collective energy, it really is awe-inspiring. We get to find the moment inside the moment. We're all regarding the time.
WHERE DOES YOUR PASSION FOR WATCHES COME FROM?
Even before music, I remember time. I remember the ticking of the Grandfather Clock when the house was quiet and pulling on my Father's wrist to let me try on whatever he was wearing (even though it was three times my size). He wore a different watch for each of us siblings to mark the occasions of our birth. Watching Dad put on a different piece as he met the day with a sense of occasion stuck with my brother Conor and me. My general field of study regarding storytelling is time, and my relationship to it has evolved on life's journey. The older I get, the more I want to do with time. The older I get, the less I want to lose it. Keeping it on my wrist is a reminder wrapped in this miracle machine. There's a mystery and a complication to time that is always just out of touch. I like that I can keep an eye on it while trying to ask the right questions.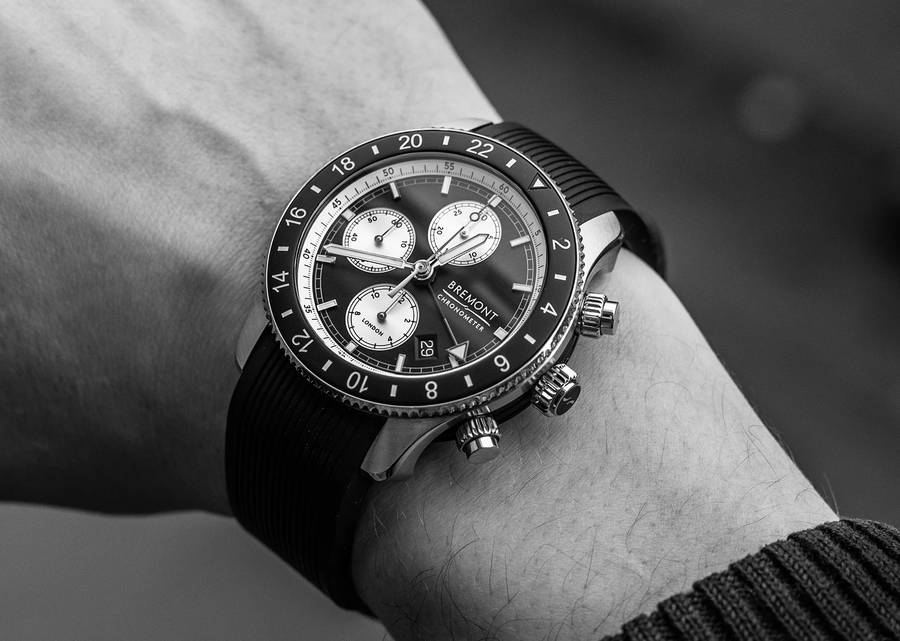 WHY DO YOU WEAR A BREMONT?
For me, the passion for context and storytelling by way of the craft is the most special quality about Bremont. It feels like history meeting the present moment.
I had the pleasure of walking through "The Wing" in Henley-on-Thames with Giles English and one of my best friends James McVey over the summer. That experience really underscored this sentiment. Being as close as I am to my brother and our shared history is another layer of my connection to the brand. I have a genuine respect for Nick and Giles and how they are making their mark in time through brotherhood. The synergy of craftsmanship, design, and story is what pulls me in, and the incredible team across the entire assembly line makes me proud to wear my Bremont.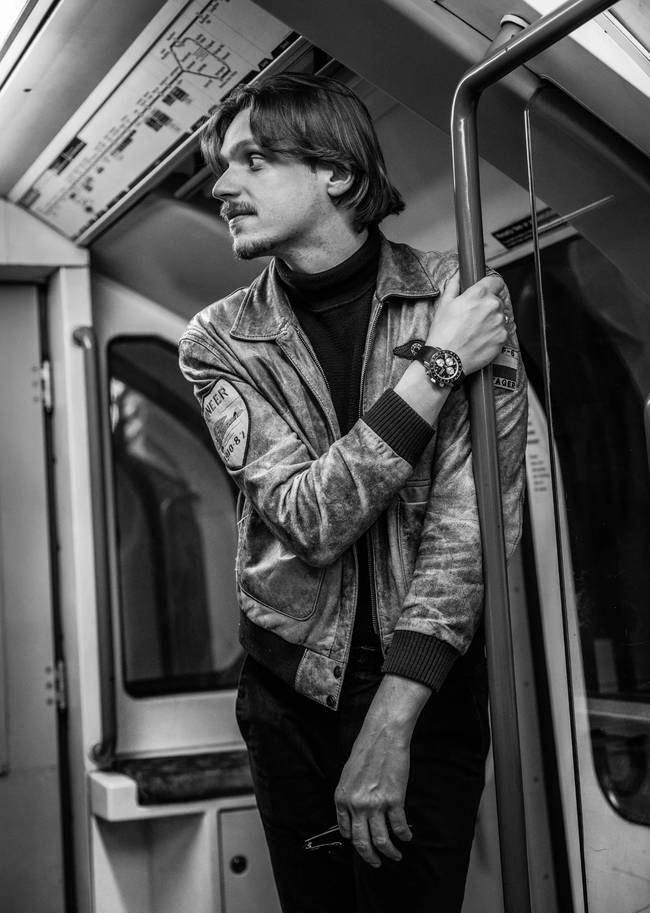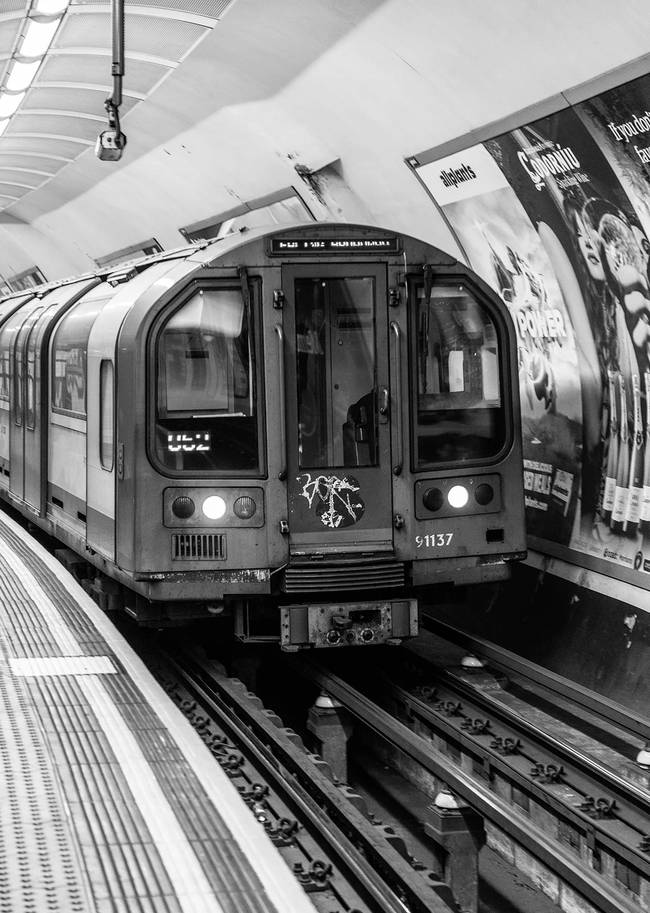 WHAT DO YOU LOVE ABOUT LONDON? DO YOU HAVE ANY STAND-OUT MEMORIES?
Coming of age in New York City made such an impression that I didn't think another city could get as close. London proved me wrong. Regarding time, the history itself makes me feel a part of something vast and interconnected. The spirit is rich, and how I think about art and life carries a different texture. I imagine a frame of myself on the roof of my apartment in New York blurring together with a frame on the roof of a flat in Chelsea. It's the same but different. I wrote a lot of my next album in London and, with the amount of time I've spent, have collected dear friends, favorite spots, and memories with my brother musing on life. The ringing in my ears of playing Hyde Park and the cry-dance-sing-at-the-top-of-your-lungs energy of the last headline show is one I hope doesn't silence. More than anything, I know so many more memories are waiting to meet me here.
'TIME IS JUST TIME. IT'S WHAT YOU DO WITH IT THAT COUNTS.' WHAT DOES THIS MEAN TO YOU?
Life starts when you decide it does. Love burns brighter when you allow it to. Time expands when you take it in your own hands, and the subtitle reads - "you've been holding it all along."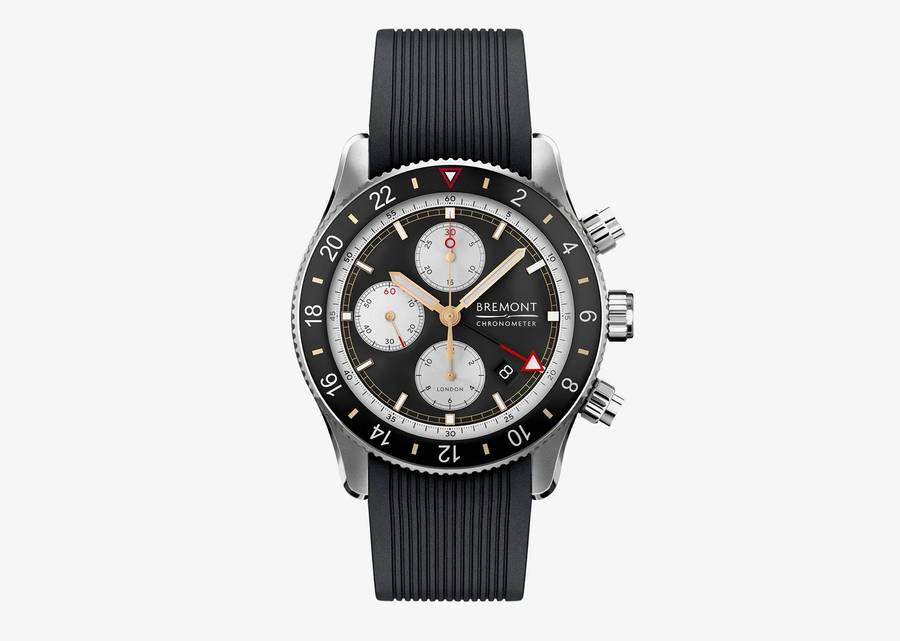 Supermarine Chronograph
" class="art-UpsellItem_Link">
The Supermarine Chronograph
For more stories from the world of Bremont Watches sign up for the Club Bremont newsletter. Here you'll find the latest in exciting new developments, product launches, and noteworthy milestones from Bremont.