The GMT watch effortlessly combines classic design with simple yet brilliant functionality. Originally designed for pilots who could utilise the dual time display, these recognisable tool watches are still worn today by the dedicated aviator. However, the function has by no means been limited to the pilot's watch, thanks to the contemporary aesthetic and useful 24-hour display. But what is it about the GMT watch that gives it such an enduring and timeless appeal? What drove the design of the GMT and why do pilots and global travellers insist upon having this timeless style of watch strapped to their wrist?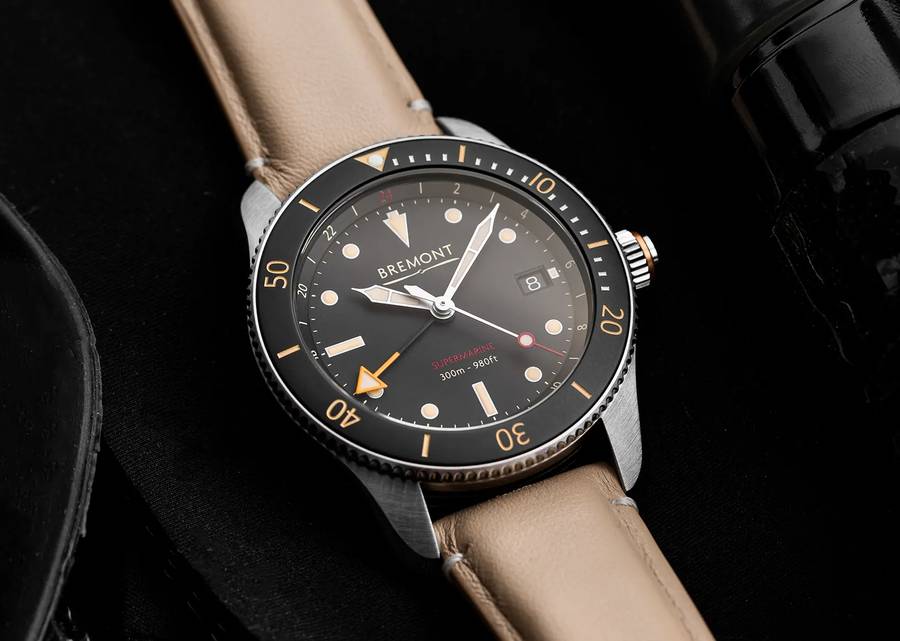 GMT functionality can not only be found in some of Bremont's pilot watches, but can also be found in its robust collection of Supermarine dive watches, the S302 pictured here with its distinctive 'burnt orange' 24H GMT hand.
The meaning of GMT
The most obvious place to start is with the meaning of GMT, which dates back to 1884 when the concept of organised and agreed-upon time was still in its relative infancy. It had been the coming of the railways approximately 40 years earlier that had led to the need for standardised time and, as international commercial travel grew, there was a requirement for a unified standard time point from which to work. The international convention of 1884 established Greenwich Mean Time or GMT, as the internationally recognised standard time on which all other time zones would be based. One could describe this as the birth of modern timekeeping.
Some 70 years later, as the jet age of aviation dawned, the standard of GMT was more important than ever as time zones began to be crossed in hours rather than days. For those piloting this new age of aircraft, a watch that could keep both local and GMT was an essential tool. These came to be known as GMT watches and featured a bezel with 24-hour markers as their primary design feature.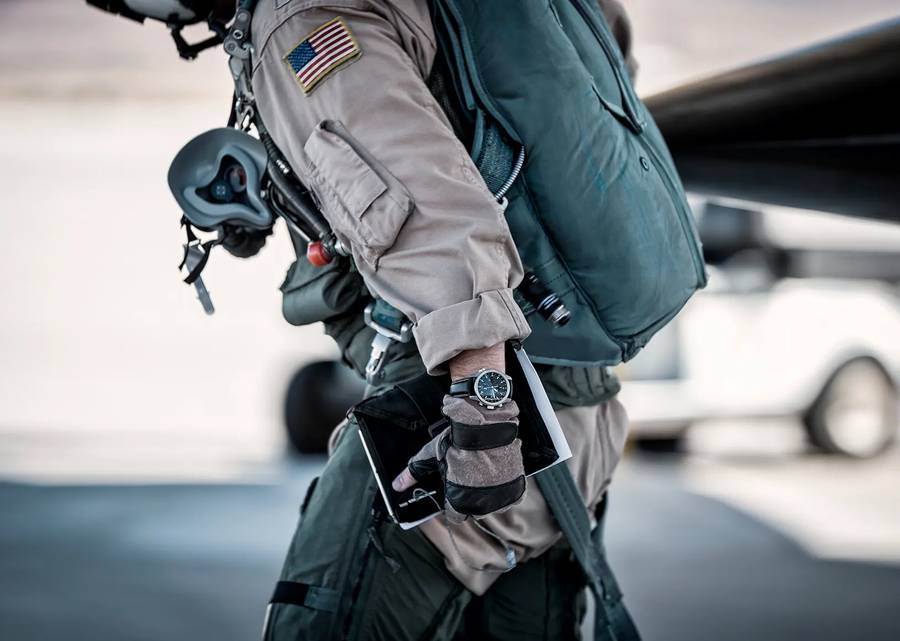 Bremont watches are relied upon by over 400 military squadrons around the globe. They require the most accurate tools for when conditions demand.
How does a GMT watch work?
The GMT watch became a horological icon not because it was complicated but because of its simplicity and ease of use. As the conventional gearing of any standard watch moves the hands around the dial every 12 hours, the GMT watch has a second-hour hand geared to run at a 24-hour time scale, circling the dial every 24 hours and leaving no confusion as to whether it is AM or PM. As pilots always operate on GMT to eliminate confusion, the 24-hour hand can always be set to GMT, and can be tracked against 24-hour markings on an externally rotating bezel or internal dial ring.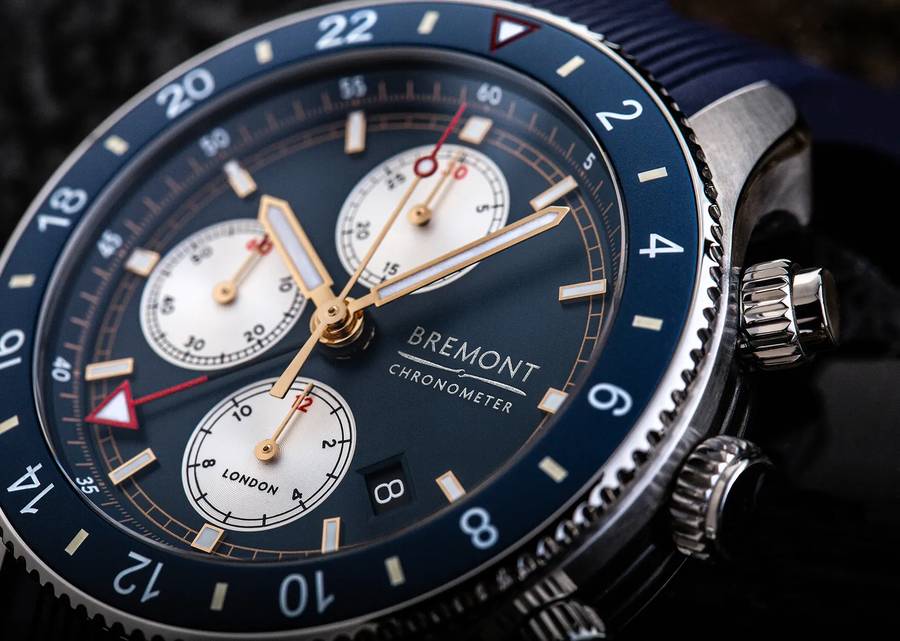 The Bremont Supermarine Chrono features the distinctive 24-hour markings around its external rotating bezel as well as a red-tipped 24-hour hand.
The modern GMT
Modern GMT watches, such as those that can be found in Bremont's collection of pilot's watches, have built on the classic design style of the original GMT, adding modern features but retaining the functionality that made these watches so popular. For instance, some models such as the ALT1-WT or ALT1-ZT feature a Roto-Click® bezel to track GMT, a innovative variation on the traditional external rotating bezel, this internal bezel can be operated by a crown at the 8 o'clock position.
With a heritage in aviation inspired timepieces Bremont's GMT watches offer precise timing, engineering and a sense of adventure – ideal for pilots and global travellers who need to monitor multiple time zones simultaneously. The world might feel like a much smaller place today, and travelling might not be the journey into the unknown it once was, but keeping time and keeping it well across multiple time zones is just as important.
The modern traveller does not have to be without the stylish accessories of the traveller of old. The modern pilot can still nod to their pioneering forebears in the jet age, a period when time began to really matter. Of course, the GMT can still play its part for a pilot or globetrotter, anchoring them in GMT wherever they may be in the world.
The ALT1-WT World Timer is one of Bremont's more complex GMT watches.
When it comes to tracking multiple time zones simultaneously, the world timer watch is suited perfectly for the task and has been specifically designed to incorporate an additional hand that indicates the time in Greenwich Mean Time (GMT) or Coordinated Universal Time (UTC) and displays all 24 time zone landing locations. It enables travelers or individuals working across different regions to easily monitor various time zones without requiring manual conversions or calculations.
Whether you are a global explorer, a pilot, or simply a lover of classic timepieces, the GMT watch is a practical and stylish watch that works as a travel companion or standalone or as part of any collection.