Time is just time. It's what you do with it that counts.
There has always been a very close association between aviation and time. Since the first courageous aeronautical explorers boldly took to the skies over 100 years ago, pilot watches have been an integral component of flying and a symbol of humankind's indomitable spirit for adventure. In fact, so intertwined are timepieces and air travel that the very foundations of Bremont's story is rooted in the founders' deep and abiding love of flying.
BREMONT'S ORIGINS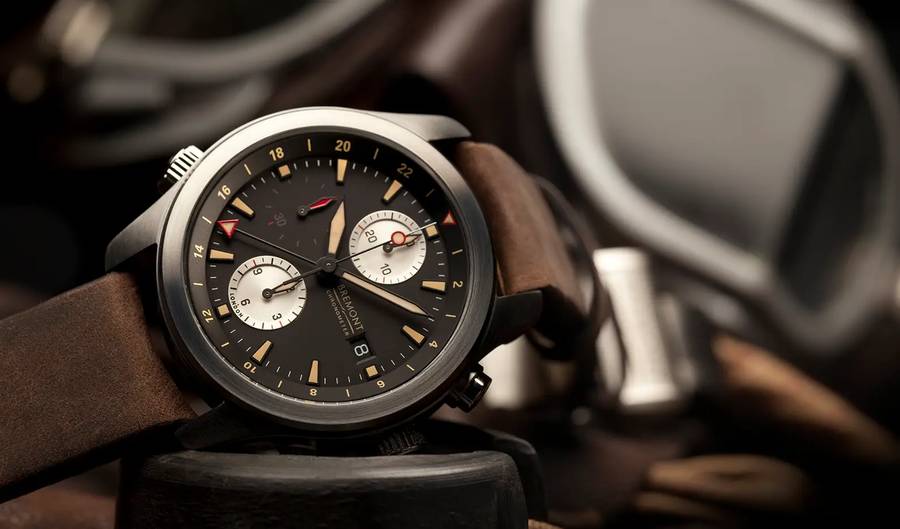 Bremont has become widely admired for its collection of durable pilot's watches
Nick and Giles English spent their childhood restoring mechanical objects in their father Euan's workshop. Euan was an ex-RAF pilot with a PhD in Aeronautical Engineering, and would often bring home an old clock from an auction for his sons to tinker with.
Inspired by the passion instilled in them by their father, Nick and Giles founded Bremont in 2002, with the express aim of creating exquisitely crafted pilot watches of exceptional quality. Drawing from their family history, as well as the tradition of watchmaking in the field of aviation, pilot watches form the core of Bremont's watch collection, and are used and admired worldwide for their function, form and finesse.
THE ORIGINS OF PILOT WATCHES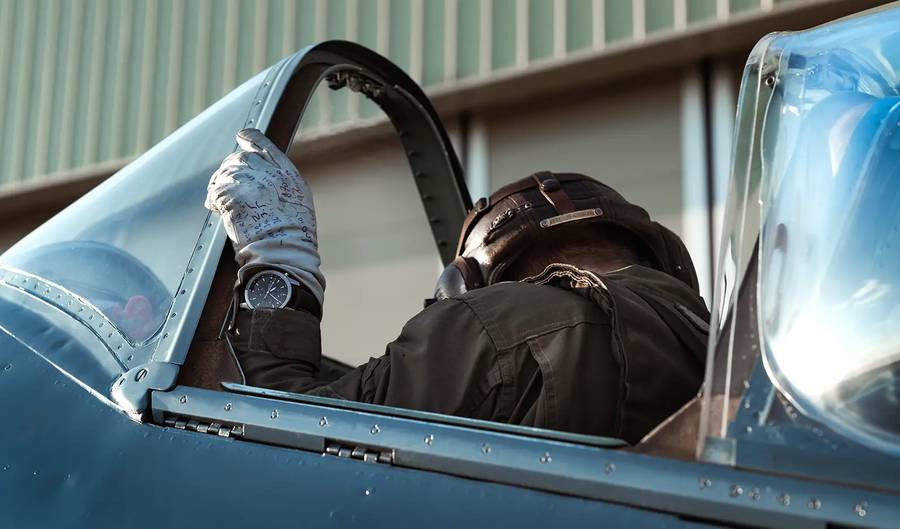 If you explore the history of the aviation and watchmaking industries, you'll notice how intertwined they are. Pilot watches have been an indispensable tool for pilots for many years. In fact, in the past, there have even been strict standards and specific requirements applied to the pilot watches issued to members of the air force.
The complexity of pilot watches has developed in tandem with aviation's technological advances. Although modern aircraft are equipped with the latest in cutting-edge navigational and communication technology, pilot watches are still an indispensable piece of kit for many airmen and women, both professional and recreational.
These classic exacting timepieces assist pilots in establishing vital information such as fuel consumption, rate of climb or descent, and other necessary calculations required when flying. Nowadays, we can reach the highest altitudes at supersonic speeds, but a pilot's watch will remain both a nostalgic link to the past and an aspirational connection to our endless quest for innovation.
BREMONT'S PILOT WATCHES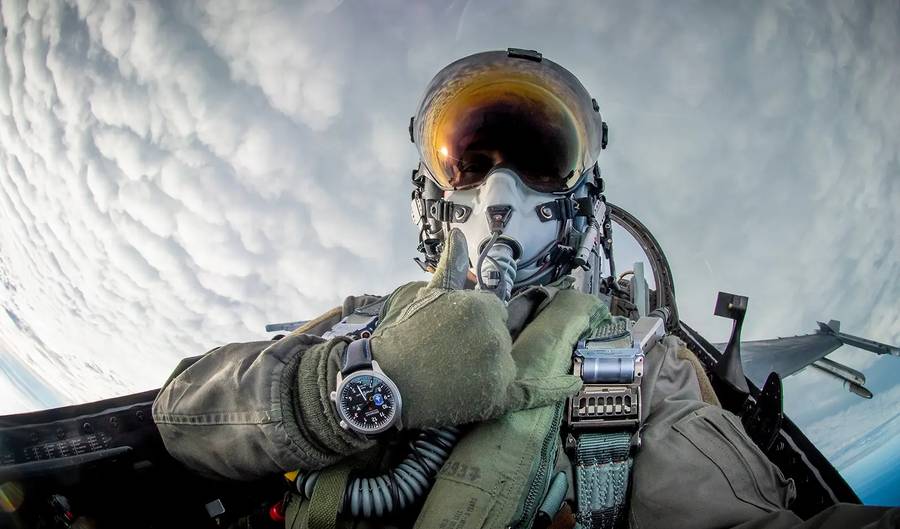 Tested beyond the normal call of duty – Bremont is trusted by pilots all over the globe
Bremont has manufactured military watches for over 400 military units worldwide and our watches are worn by real pilots. Bremont is also the exclusive luxury watch provider to the UK's Ministry of Defence. Because of this, its sought-after pilot watches and specialised timepieces have to be tested beyond the normal call of duty in order to provide utmost reliability when the conditions demand. For instance, Bremont watches are the only watches to have gone through a live ejection testing programme with Martin-Baker.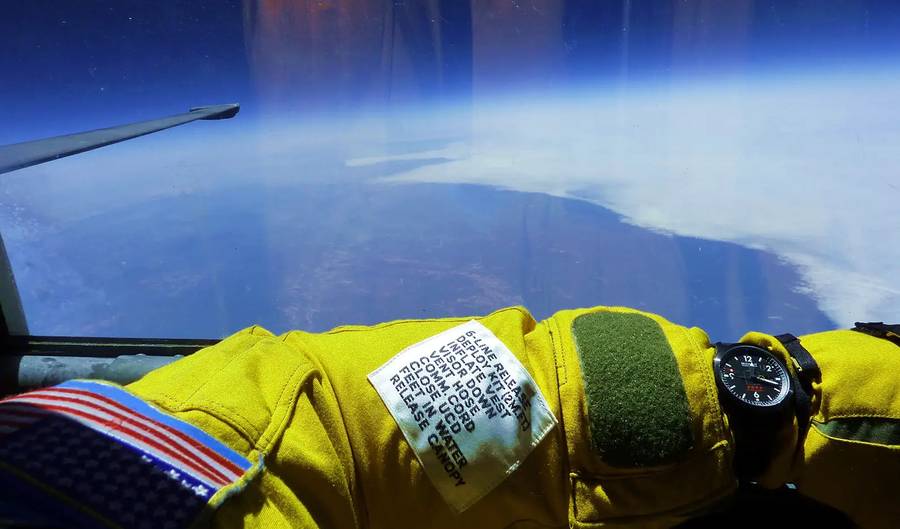 The Bremont U-2 is based on this special project model produced for and tested by elite U-2 Spy Plane pilots
Working in line with Bremont's core beliefs, pioneering principles, and superior design technology, Bremont creates exclusive bespoke watches for military personnel, specialised communities, private organisations, and corporations across the globe. Constructed to withstand the extraordinary rigours of high altitudes, its meticulously crafted pilot watches adorn the wrists of combat personnel worldwide.
In fact, whether you're a "frequent flyer" traveller, aviation enthusiast, a member of the all-important ground crew, or you're breaking the sound barrier in a state-of-the-art fighter jet, there's no denying the benefits of pilot watches. From the more complex features, such as calculating fuel consumption, to the basic benefits, like viewing two time zones at once, pilot watches such as the Pilot Chronographs range in Bremont's Altitude Collection (which features the very first watches that Bremont designed – The ALT1-C, ALT1-Z & ALT1-P) are the ultimate in treasured timepieces.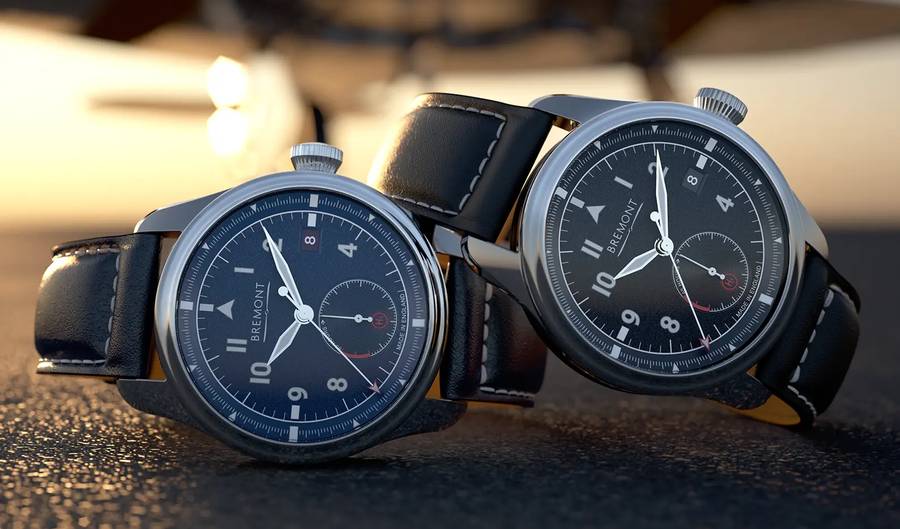 A contemporary take on the classic pilot's watch, the Bremont Fury is the first watch in the Altitude Collection to feature an ENG300 series mechanical movement, manufactured by Bremont.
FEATURES TO LOOK FOR IN PILOT WATCHES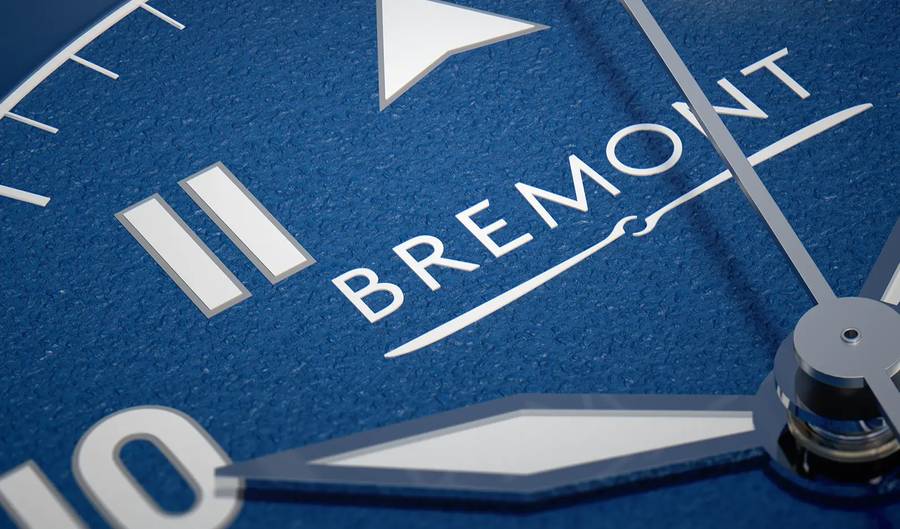 Legibility
Legibility is one of the most important things to consider when looking for a pilot watch. Your watch's dial should be readable at a glance, especially when you're busy manning the cockpit and there's no room for error.
Bremont's pilot watches feature up to 20 coats of Super-LumiNova® to their dials, ensuring optimal visibility in the poorest of lighting conditions. Additionally, our convex sapphire crystals come with a Mohs hardness rating of 9. That's the equivalent to 2000Hv on the Vickers' scale. Untreated crystals can allow light to reflect back, significantly affecting the legibility of the dial. So anti-reflective coatings are vapour-deposited to both sides of the glass in a vacuum environment, reducing reflections to less than 0.5% for optimum legibility. Many pilot watches have large, dark dials with contrasting numbers or indices, essential for a pilot to easily and instantly tell the time for both day or night flights in all-weather conditions.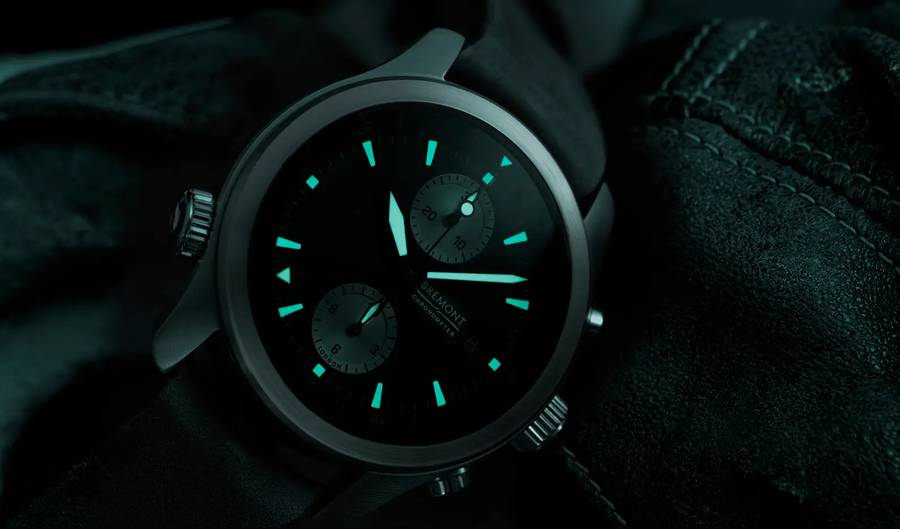 Super–LumiNova® found on the dial of the ALT1-ZT aids visibility in low lighting conditions
GMT Functions and Dual Time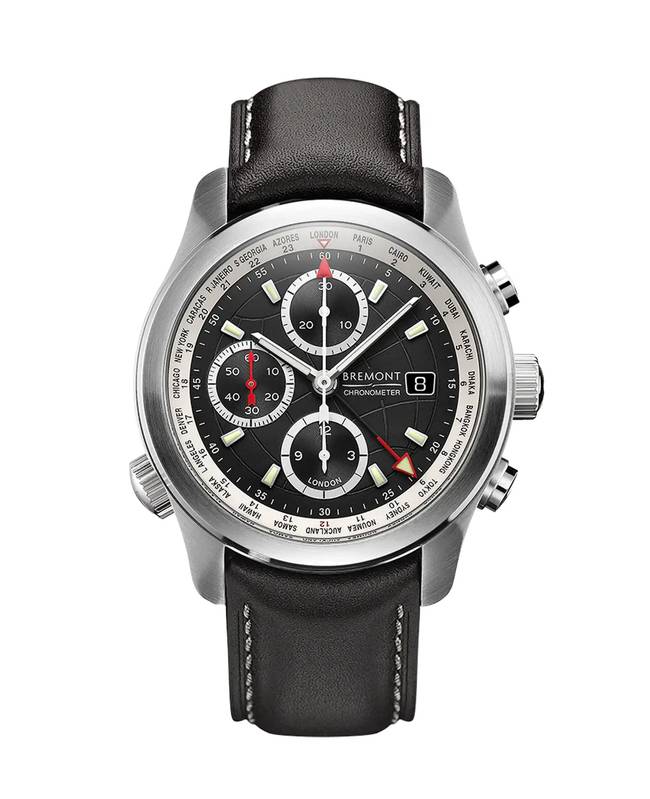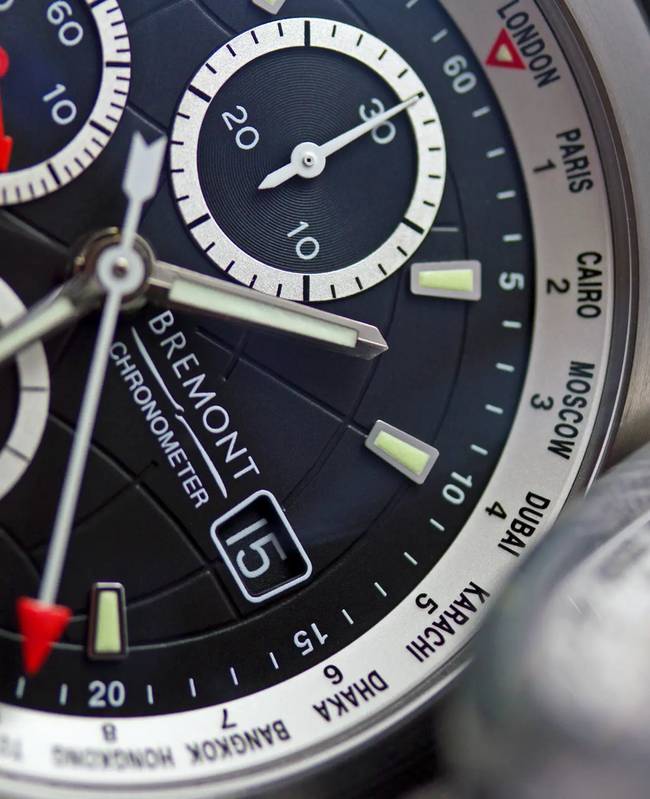 The ALT1-WT World Timer is one of the more complex pilot's watches in the Altitude Collection, featuring 24H GMT functionality and a Roto-Click® bezel enabling the user to work out global time zones using the international landing location.
If you're a frequent flyer, you'll know the frustration of adjusting your watch to different time zones. Many Bremont pilot watches feature dual-time functionality to track multiple time zones or establish coordinated universal time (UTC). Pilot watches that feature Dual Time or GMT will allow you to read two time zones simultaneously. While some watches, such as The Bremont World Timer, displays several time zones, having a dual time feature can be indispensable for most who travel often.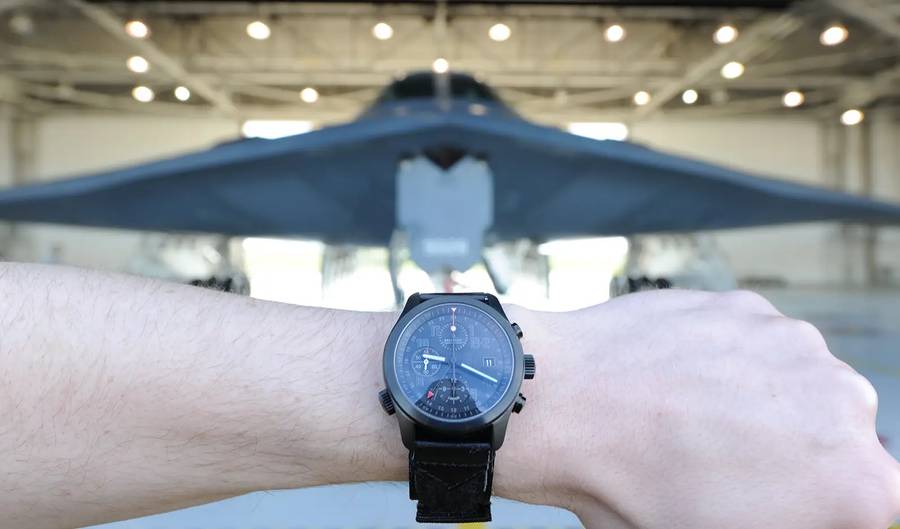 Inspired by the B2 'Stealth Bomber' Aircrew project in 2012 the ALT1-B features a stealthy appearance with a DLC coated black Trip-Tick® case
Many Bremont watches have been designed with Roto-Click® technology. This new bezel technology, designed and built by Bremont, is integrated into a number of models, such as the over-engineered ALT1-B. This highly specialised pilot watch is based on an original military design created for B-2 Stealth Bomber Aircrew, re-engineered and re-imagined for civilian airspace, and tested beyond endurance by pilots working at the limits of space. This unique bezel rotates while gliding on a series of four ball bearings. These bearings knit into the gearing of the bezel to produce a most satisfying click for every minute rotated.
Anti-magnetic & Anti-shock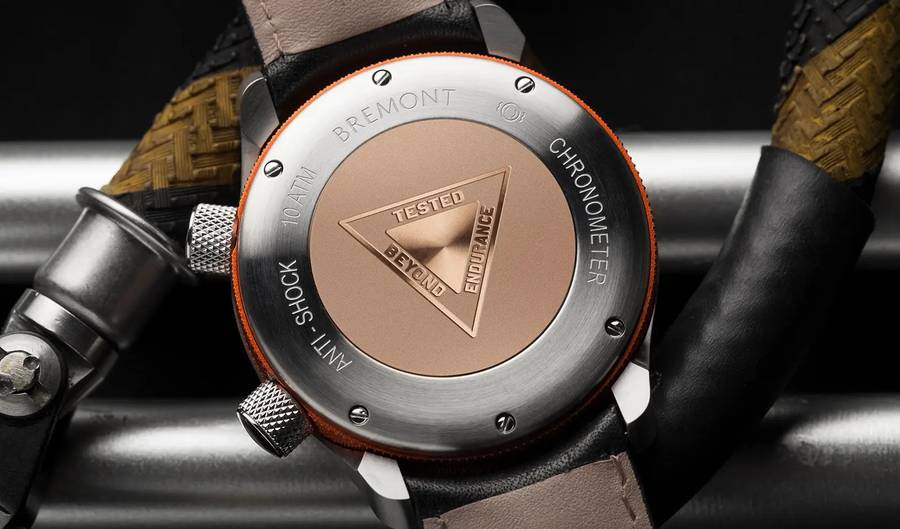 The Bremont MB Range has become renowned as one of brand's most iconic timepieces due to the innovations it houses, including an Anti-magnetic faraday cage and Anti-shock mount which protects the mechanical movement.
When flying, there's a possibility of encountering magnetic fields that can damage your watch. To combat this problem, Bremont has integrated anti-magnetic properties through the protection offered by a Faraday cage (a specially designed enclosure that blocks electromagnetic fields) within models such as the MB and U-2. Any potentially harmful magnetic fields are then routed around the movement.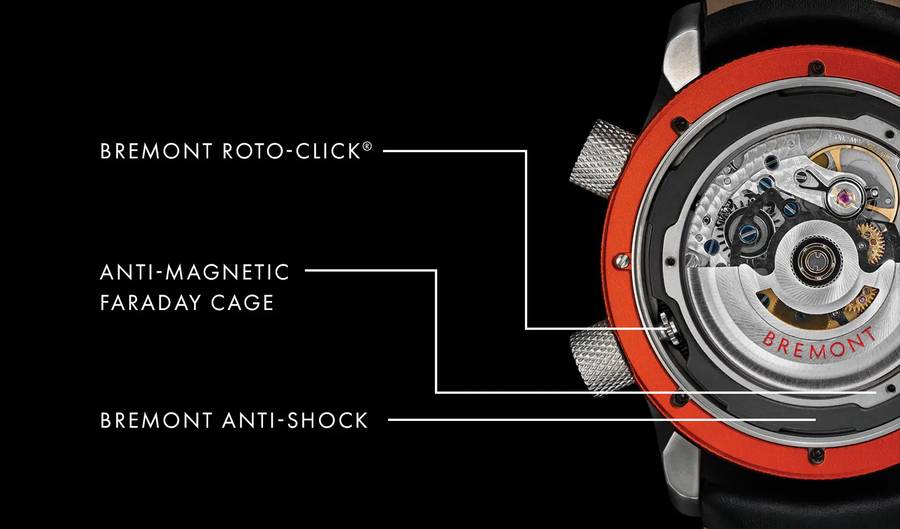 The ultimate pilot's watch: the interior of the Bremont MB, showcasing its many innovative technologies including the Roto-Click® bezel, Anti-shock movement mount and Anti-magnetic Faraday cage.
Martin-Baker is a British aviation company responsible for supplying 70% of the world's Air Forces with fighter ejection seat technology. They first approached Bremont to create the ultimate pilot's watch in 2007. More than simply putting a logo on an existing model, the watch had to withstand the same rigorous testing programme as the ejection seats themselves. Two years later, the Bremont MB was born. The limited edition MBI remains solely for pilots who have ejected from an aircraft using a Martin-Baker seat whereas all other models in the range are available to all. The MB Range is a must-have for any serious collector. It has been put through the same intensive, extensive testing schedule that the ejection seats go through. This includes Live Ejection Testing, MFOS Crashworthy Testing, Extreme Temperature Endurance, Vibration Testing, Altitude Testing and Aircraft Carrier Deck Testing.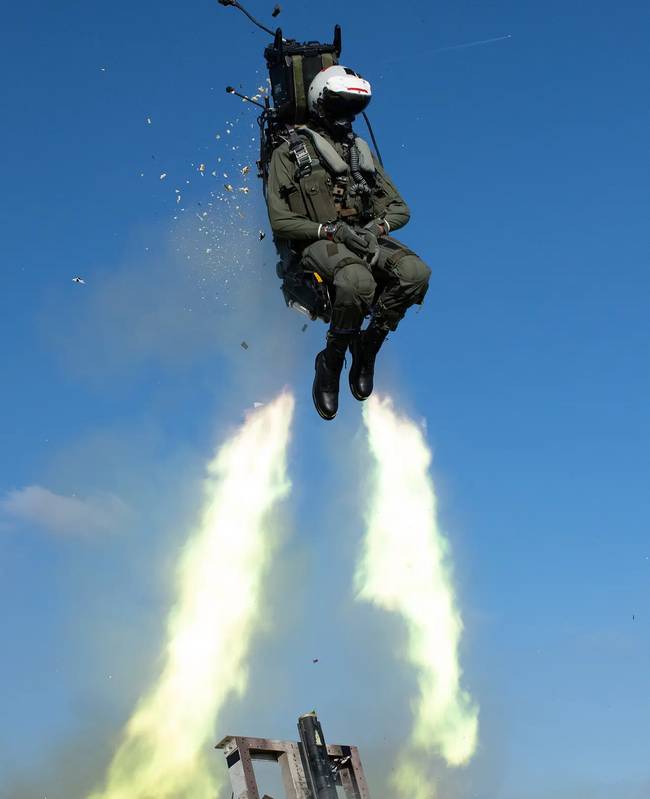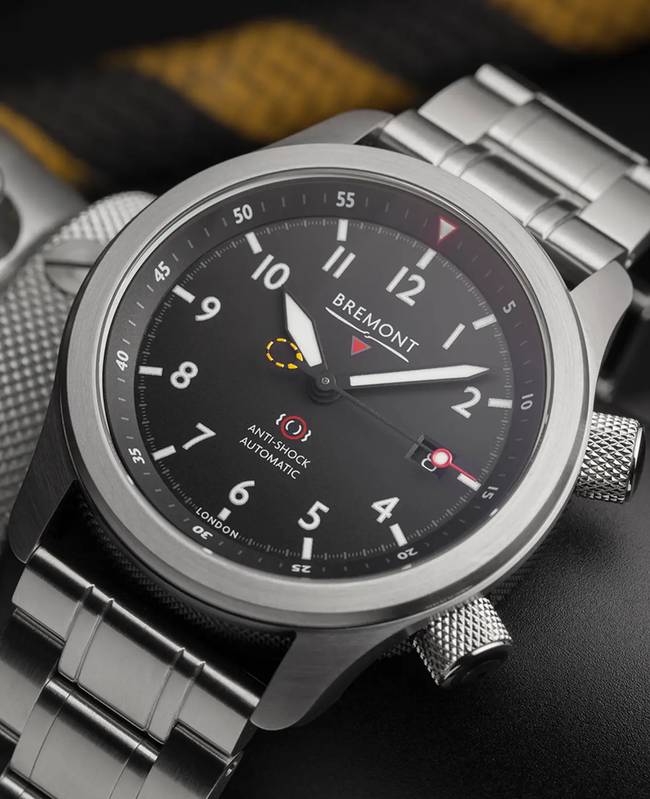 Bremont has been working with Martin-Baker since 2007 to put its watches through the most rigorous testing schedule – the result was the Bremont MB range.
Chronograph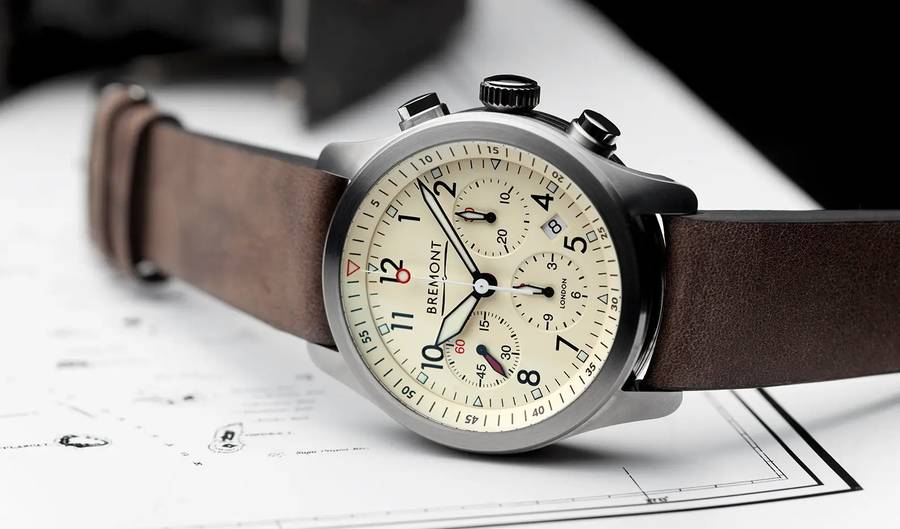 Models beginning with 'ALT' in the Altitude Collection will feature Chronograph functionality
One of the most valuable features of high-quality pilot watches is a chronograph function, such as those in Bremont's iconic Pilot Chronographs Range, as it has many useful aviation applications. A pilot's chronograph can calculate airspeed, calibrate aeroplane functions, and even compensate for wind direction. It can be an indispensable tool in the air, especially for a pilot flying solo.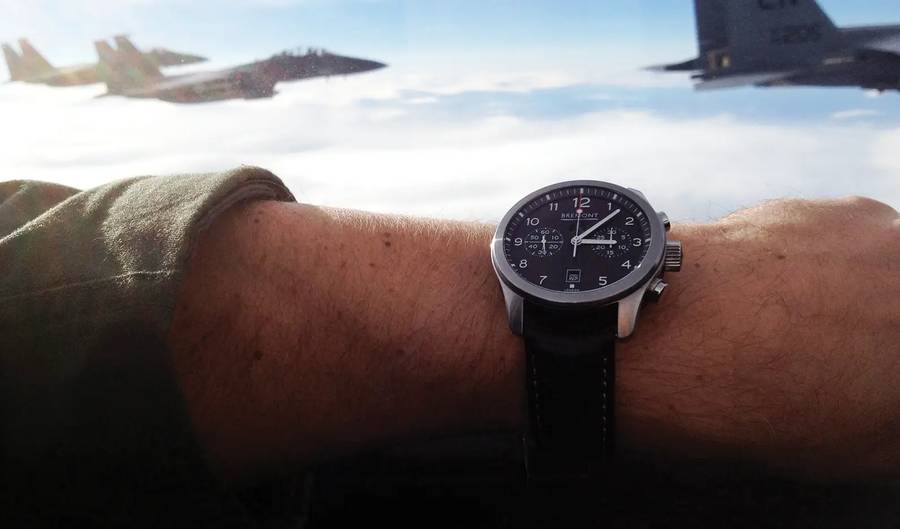 When finding the ultimate in pilot watches, the sky really is the limit with Bremont's Altitude Collection.
For more insights into what makes pilot watches tick, explore the world of Bremont Watches by signing up for the Club Bremont newsletter. Here you'll find the latest in exciting new developments, product launches, and noteworthy milestones from Bremont.